M328 transistor tester
An M328 transistor tester is a lab tool, can identify various components and automatically calculates their respective parameters. You have a transistor, the tasks are to find its pins and its Beta. To find the mentioned, plug the transistor into M328 and get the parameters on the LCD digital screen. It also tells you the type of transistor.
A transistor can be of any family, BJT or MOSFET, you will get accurate readings all the time.
Besides the transistor testing, this device can also be best used as an electronics component tester. It can identify the following with high accuracy:
Capacitors (calculates capacitance (C), Voltage loss, and ESR)
The ESR calculation makes this guy more powerful. You can use ESR value to find out the bad capacitor on the board even without desoldering it.
Resistors (calculates the resistance value)
Diodes (including Zener and dual diodes)
Inductors (calculates inductance (L) and it's internal resistance)
In summary, this device is not limited to just transistor testing, you can use it as ESR meter, and LCR meter as well. This is a complete package for your lab and can make your lab life handy and more fun.
How to use M328?
The working of M328 is so simple. You don't need to be an expert or need any special guidance. Follow the following easy two steps and you will be fine.
Step 1:
The M328 transistor tester comes along with an IC lock seat. First place the IC lock seat in its proper place as shown below.
Then turn on your device by pressing the power button. Select the component you want to test. Plug it into the device. Make sure your component has nice leads, else you can physically damage your tester.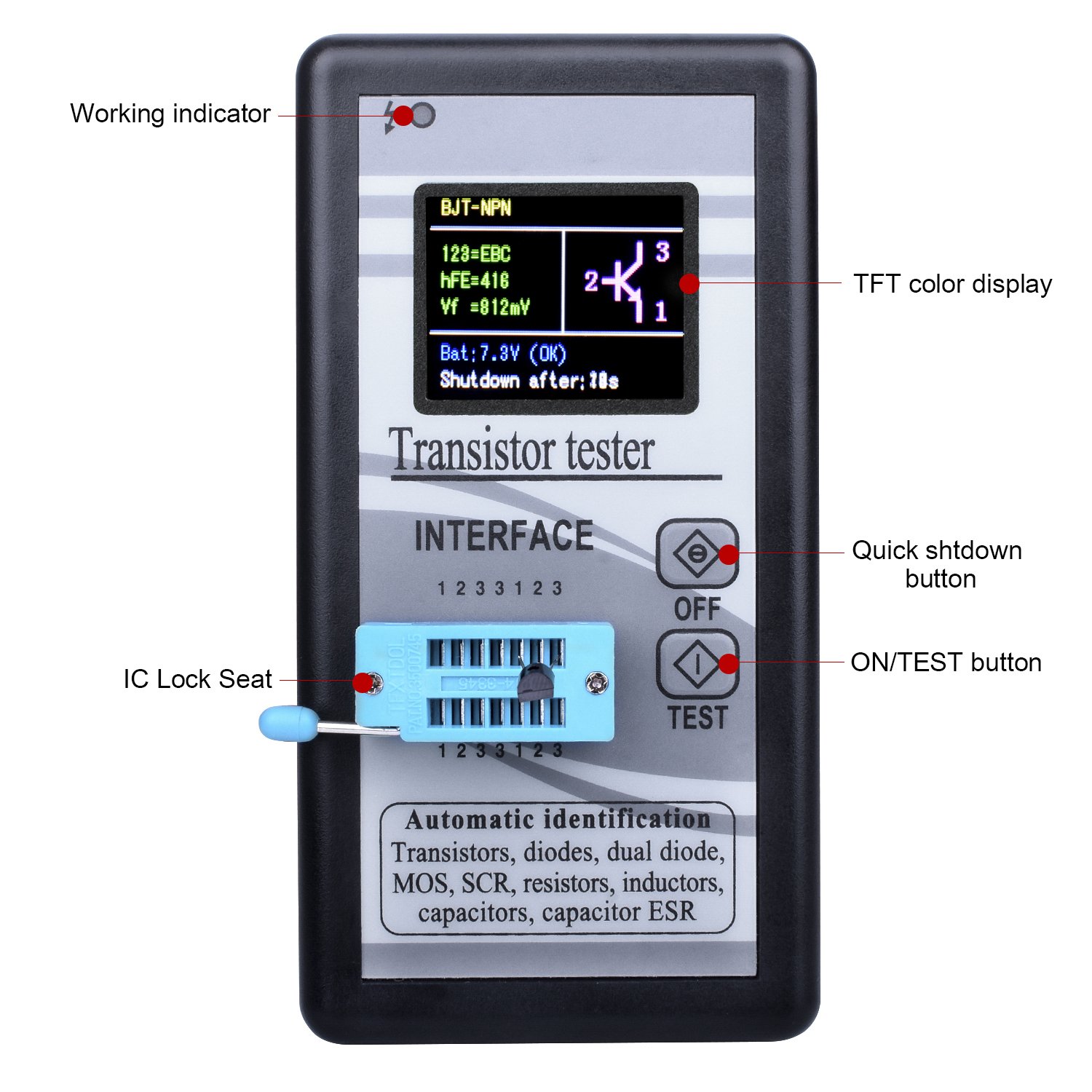 Step 2:
After you plug in your component properly, push the test button, and wait for a few seconds. And there you have all your readings on the screen.
And most importantly, don't forget to discharge the capacitor before testing it. In another case, you may burn out your tester. One last point, the tester doesn't come with an installed battery. So you have to buy a new 9V battery or use the old one from your lab.

---