Hi. Hope you are having a good time. In this post, I am going to share how you can change the battery of a multimeter.
Today I just picked up my multimeter and it was not working. I powered it up and after a minute it shuts down automatically. I tried to ON it several times but it repeated the same behavior.
I become worried a little at first because I love my electronic gadgets and components. Soon I figured out by doing some Google searches, that battery has discharged. I have to change its battery.
But I did not know how to change the battery of a multimeter.
I learned it and decided to write about my experience so that if anyone has got the same problem. It would help him/her.
Hopefully, you will enjoy this article.
How to tell if the battery has discharged
When I saw my multimeter not working I got a lot of false thoughts in my mind. I thought, maybe the fuse is burnt, maybe the whole multimeter is burnt out.
But then I realize if fuse or multimeter were burnt out, the screen should not show anything. All these false thoughts came to my mind because the first time I pressed the power button on the multimeter, nothing showed up. Then upon pressing it several times, multimeter powered up but it shuts down in a minute automatically.
I think the battery discharge indication is, when you turned on your multimeter, it stays on. And then a sudden it shuts down without your intentions. If you have got the same problem then worry not. It is not a very big deal. You just need to replace the battery.
How to change the battery of a multimeter
You are sure that your multimeter battery is discharged. And have decided to change it. Let follow my below steps and you will do just fine. For changing the battery of a multimeter all you need a screwdriver and 9V battery from a trusted brand.
You must have a screwdriver that fits your multimeter, else you will not be able to replace the battery.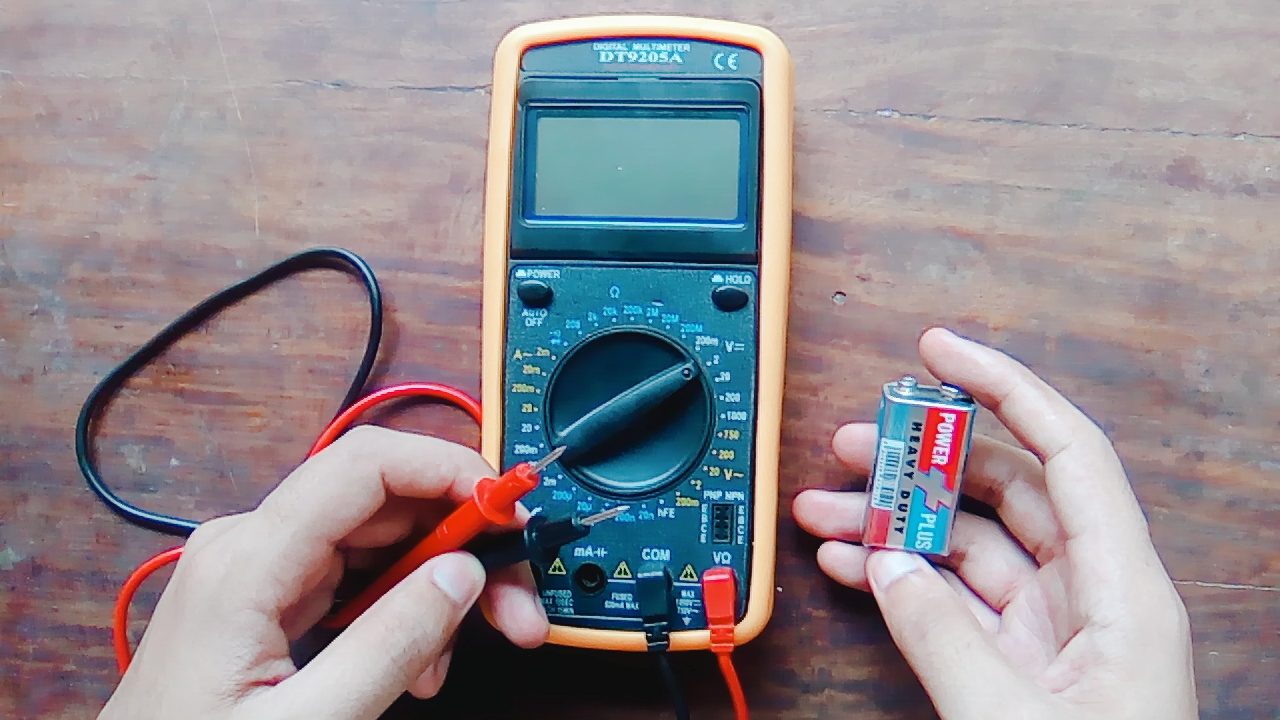 This is the picture of my multimeter when it was not working. I was so sad to see it in this condition. I used this for almost 5 years now. So there built a connection of love, I guess. Do not get me wrong. All I am saying I just love it and can not see it not working.
Remove the probes and all covers from it
The first step is to remove all the covers and probe very carefully. You see my multimeter has a nice yellow rubber cover around it. It protects it and also gives it a nice look.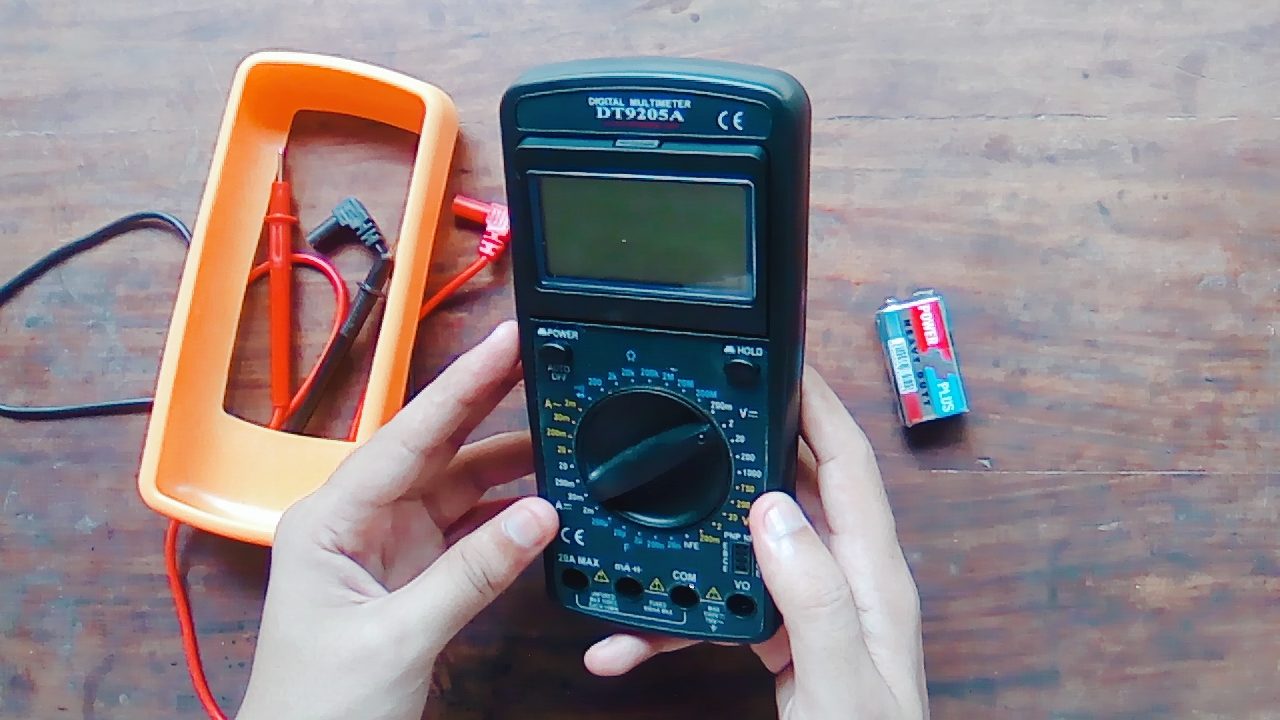 I did not see my multimeter without a yellow color. It does look very nice without it. But I had to remove it to make the whole multimeter working properly again.
Remove the back cover
See the back of your multimeter. There must be a place which you can feel like a place for the battery. I did not feel or see it and removed all the screws on my multimeter. And guess what, removing other screws were of no use.
See there must be a horizontal line on the back of your multimeter and thee must be some screws nearby. If you see such lines, remove the screw only near to it.
Do not remove all the screws.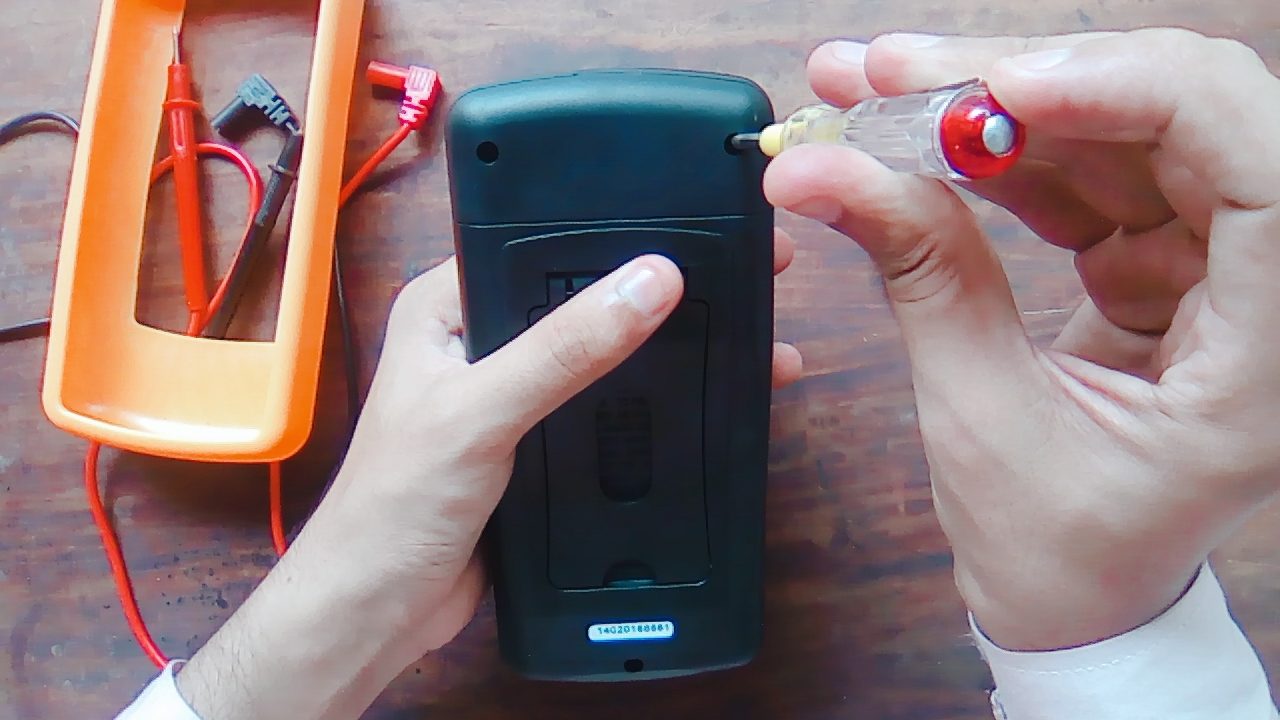 Please carefully remove the screws with a good screwdriver. Try not to forcefully open it with the screwdriver that does not fit it.
Remove the battery carefully
After removing the cover carefully. It is time to remove the discharged battery carefully. The battery may be placed in any position and angle. You have to very smart and think to handle it carefully.
Because we are going to make our multimeter work fine again not to damage it even more. And I think it is the most important part of our main topic, change the battery of a multimeter.
Maybe your damage battery would not be in good shape. If you see some unfamiliar liquid on your battery. Try to not touch it bare hands. I do not know exactly why but I think it is some sort of acids and we should avoid it.
I think it like this way, you touch it and while working you accidentally touch your eyes with these dirty hands. You might end in trouble. So try not to hold a battery that is in not good condition.
Replace the old battery with a new one
Both the old battery and the new battery must have the same specifications. If they do not have the same specification.
Your multimeter may not show accurate results. And I think it should not work properly as well.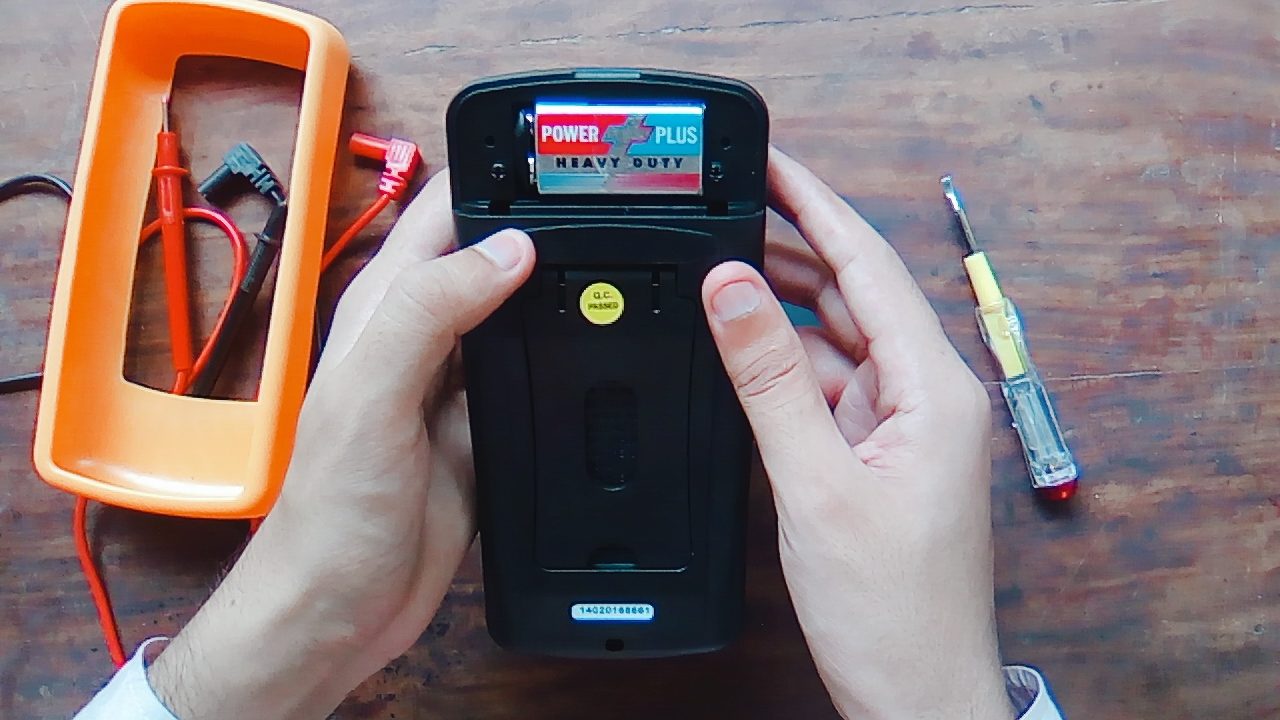 Make sure the new battery fit in very nicely and properly. If it does not fit in well you will not be able to place the back cover on it. Also, make sure you have connected the right polarities of your battery to the right polarity of the multimeter.
I do not think it would happen because the wires are designed in the way you can not make any mistake. But I thought it would be great to just mention it.
Check if the meter is working fine
When you change the old battery with a new one. It is good to check your multimeter before covering it. Power on your multimeter and wait for a minute if it does not shut down automatically.
It means you did a great job. Your multimeter is good to go for measurements i.e. voltage measurements, current measurements, etc.
Put back the covers and probes
After verification, it is the time to put the removed back cover again on its original place. Also, we have removed the yellow protection cover and the probes. We need to put and plug them back on its original places.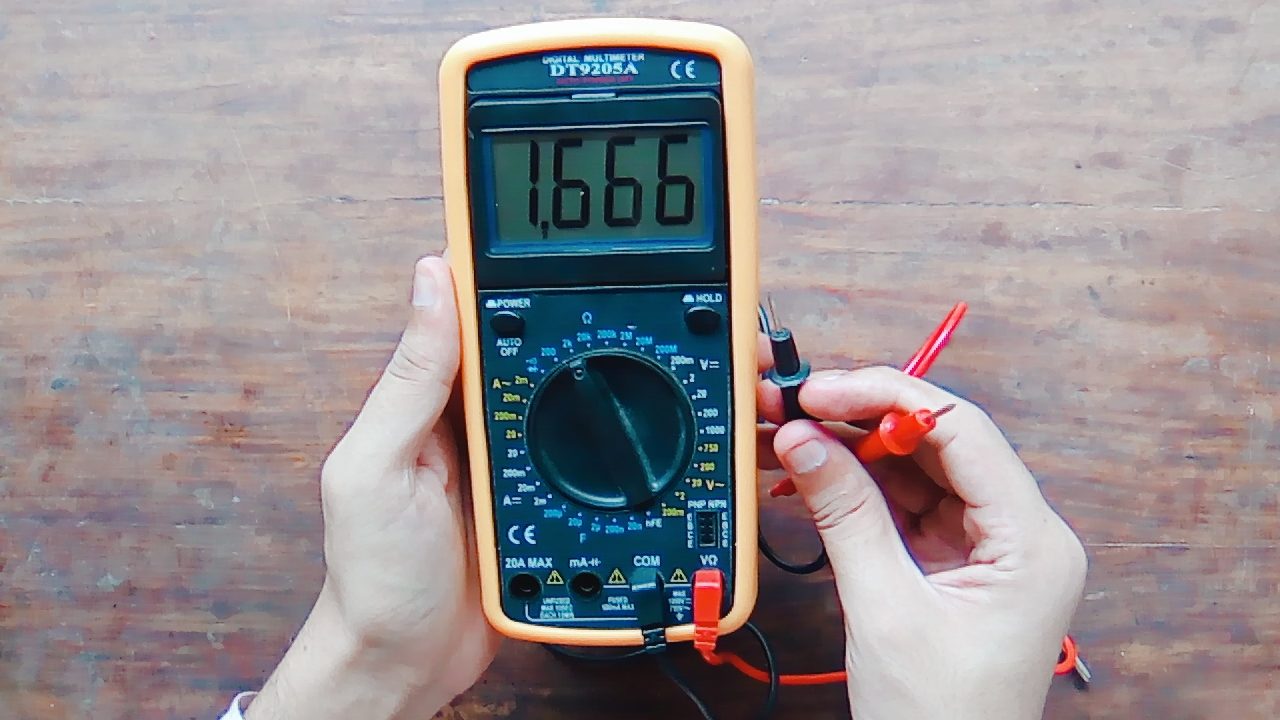 I have my multimeter back. And it is working fine and also looks nice again with the yellow cover on it. One thing I will add here if you have hold button on your multimeter please check it.
I have pressed it accidentally while recovering the multimeter back. When I finished covering. I powered the multimeter on. It powered on but when I tried to measure the voltage of the old battery it was not showing any voltage.
It was a small worry moment but soon I realized the hold button was pressed. And with I share what I have learned about how someone can change the battery of a multimeter.
My final words
This is what I learned about how to change the battery of a multimeter.
Replacing the discharged battery of a multimeter with a new one was quite interesting to learn and was fun teaching to you as well.
Hopefully, it has helped you in some way.
Thank you and have a good life.
Special Thanks to
Jamal Abdul Nasir, my younger sweat brother, for taking all the above pictures. He has a nice taste of taking pictures here and there. We enjoyed and shared very nice moments in taking these pictures.
---
Useful post: